Bonnie Prince Charlie - (1948) - Netflix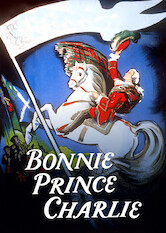 Slik fjerner du blokkering av alle film- og TV-show på Netflix
1h53m -
Drama
Exiled prince Charles Edward Stuart raises a force of loyal Scottish followers to seize the English crown in this epic costume drama set in the 1700s.
Regissør:

Anthony Kimmins

Skuespillere:

David Niven

,

Judy Campbell

,

Jack Hawkins

,

Morland Graham

,

John Laurie

,

Margaret Leighton

,

Ronald Adam

,

Finlay Currie

Netflix vurdering:

5.3/5
Rotten Tomatoes vurdering:
NA
Land hvor den er tilgjengelig:

Ikke tilgjengelig der du bor? Lær hvordan du kan låse opp Netflix og se denne tittelen.

Tilgjengelig siden:
2021-09-15
Lignende titler:

Synopsis:
In 1743 James Francis Edward Prince of Wales son of deposed King James II of England and Ireland and VII of Scotland decides he is too old to return to England to reclaim the English Scottish and Irish crowns. Living in exile in continental Europe he summons his son Prince Charles Edward Stuart to name him Prince Regent and entrust him with the task of reclaiming the crowns from the sitting monarch King George II. During the succession debacle the House of Stuart received the support of their Catholic subjects while King George II of the House of Hanover had the support of the Protestants. Catholic France supported the House of Stuart's claim to the English Scottish and Irish thrones. In 1745 Prince Charles Edward Stuart affectionately known as Bonnie Prince Charlie and The Young Pretender is finally sent to Scotland with French support to reclaim the throne from George II for the House of Stuart. With a warship and seven companions Prince Charlie lands on a Scottish shore in great secrecy. His first task is to send word out and rally all the nobles and chieftains of all the Scottish clans. If he means to defeat the English in battle he must rally all of the Scottish clans to his cause. King George II of England gets wind of these activities from his spies but for the moment he is not worried. Bonnie Prince Charlie persuades all Scottish nobles and chieftains except one to join him in a rebellion against the English. The only dissenting Scottish nobleman argues that without any significant French military support the rebellion will fail. Undeterred Bonnie Prince Charlie raises his royal standard on the 19th of August 1745 and claims the crowns of England Scotland and Ireland in front of a gathering of Scottish nobles and chieftains. The Jacobite Rebellion has begun !
Andre titler som vises akkurat nå