Catch Us If You Can - (1965) - Netflix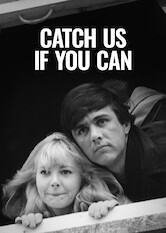 Slik fjerner du blokkering av alle film- og TV-show på Netflix
1h31m -
Komedier
When a supermodel flees the set of a commercial shoot along with a stuntman, the ad exec behind the campaign spins their escape into a publicity stunt.
Regissør:

John Boorman

Skuespillere:

Dave Clark

,

Barbara Ferris

,

David Lodge

,

Robin Bailey

,

Yootha Joyce

,

David De Keyser

,

Clive Swift

,

Ronald Lacey

,

Mike Smith

,

Lenny Davidson

,

Rick Huxley

,

Denis Payton

Netflix vurdering:

5.8/5
Rotten Tomatoes vurdering:
NA
Land hvor den er tilgjengelig:

Ikke tilgjengelig der du bor? Lær hvordan du kan låse opp Netflix og se denne tittelen.

Tilgjengelig siden:
2021-09-15
Lignende titler:

Synopsis:
Dinah is a model whose face appears in an ad campaign for meat. While shooting a TV commercial she and Steve one of the stunt men run off together. The advertising executives use their disappearance to generate more publicity for... meat.
Andre titler som vises akkurat nå