Schumacher - (2021) - Netflix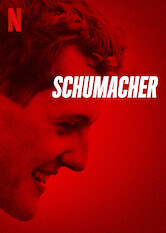 Slik fjerner du blokkering av alle film- og TV-show på Netflix
1h52m -
Dokumentarer
Through exclusive interviews and archival footage, this documentary traces an intimate portrait of seven-time Formula 1 champion Michael Schumacher.
Regissør:

Vanessa Nöcker

,

Hanns-Bruno Kammertöns

,

Michael Wech

Skuespillere:

Michael Schumacher

Netflix vurdering:

0.0/5
Rotten Tomatoes vurdering:
NA
Land hvor den er tilgjengelig:

Ikke tilgjengelig der du bor? Lær hvordan du kan låse opp Netflix og se denne tittelen.

Tilgjengelig siden:
2021-09-16
Trailer:
Lignende titler:

Synopsis:
Followed by millions worldwide. His strong will and triumphant fight to win against all odds put Michael Schumacher at the centre of global attention. Michael Schumacher's journey has captured the imagination of millions but there is a lot more than motor racing to the success of this very private man. However it is not only his fighting spirit and striving for perfection that define Michael Schumacher as a person; his self-doubt and insecurities complete the picture of a sensitive and reflected man. At the heart of Michael's story are his parents his children and Corinna Schumacher his childhood sweetheart and the love of his life. They are now ready to tell his story.
Andre titler som vises akkurat nå