Chal Mere Bhai - (2000) - Netflix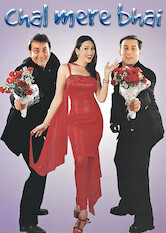 Slik fjerner du blokkering av alle film- og TV-show på Netflix
2h11m -
Komedier
When a secretary saves her tycoon boss's life, his family hears wedding bells. Problem is, she's already in love -- with his younger brother.
Regissør:

David Dhawan

Skuespillere:

Twinkle Khanna

,

Ravi Baswani

,

Dalip Tahil

,

Sushma Seth

,

Sonali Bendre

,

Nagma

,

Sanjay Dutt

,

Salman Khan

,

Karisma Kapoor

,

Shakti Kapoor

Netflix vurdering:

4.7/5
Rotten Tomatoes vurdering:
0/100
Land hvor den er tilgjengelig:

Ikke tilgjengelig der du bor? Lær hvordan du kan låse opp Netflix og se denne tittelen.

Tilgjengelig siden:
2019-12-31
Lignende titler:

Synopsis:
The wealthy Oberoi family consists of dad, Balraj, his mother, and two sons, namely Vicky and Prem. Vicky is in love with a beautiful young woman, and they hope to marry soon. Unfortunately, this woman passes away in an accident, leaving Vikcy devastated and heart-broken. Vicky takes the responsibility of running the family business, and this is where he meets with a klutz named Sapna Mehra, a woman who wants a job as as his secretary, but has no skills whatsoever. Vicky refuses to hire her, and she tearfully exits the office, only to run into Balraj, who takes pity on her and hires her. Vicky does not go against his dad's wishes and accepts Sapna as his secretary. Vicky gets involved in a fight and is severely wounded and hospitalized. Sapna spends all her free time looking after him, and the Oberoi family feel she will make a good wife for Vicky. Vicky accepts the family's decision. But no one took the trouble of asking Sapna if she really loves Vicky or his younger Casanova-like brother, Prem?
Andre titler som vises akkurat nå