The Art of Self-Defense - (2019) - Netflix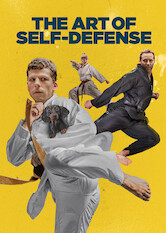 Slik fjerner du blokkering av alle film- og TV-show på Netflix
1h44m -
Komedier
Tired of being bullied, a meek man enrolls in the karate class of an enigmatic instructor who introduces him to a sinister, hypermasculine subculture.
Regissør:

Riley Stearns

Skuespillere:

Jesse Eisenberg

,

Alessandro Nivola

,

Imogen Poots

,

Steve Terada

,

Phillip Andre Botello

,

David Zellner

,

Jason Burkey

,

Mike Brooks

Netflix vurdering:

6.7/5
Rotten Tomatoes vurdering:
84/100
Land hvor den er tilgjengelig:

Ikke tilgjengelig der du bor? Lær hvordan du kan låse opp Netflix og se denne tittelen.

Tilgjengelig siden:
2021-08-18
Trailer:
Lignende titler:

Synopsis:
After being attacked on the street, a young man enlists at a local dojo, led by a charismatic and mysterious sensei, in an effort to learn how to defend himself from future threats.
Andre titler som vises akkurat nå