Frantic - (1988) - Netflix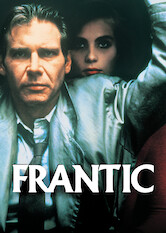 Slik fjerner du blokkering av alle film- og TV-show på Netflix
1h59m -
Mysteries
Dr. Richard Walker and his wife are in Paris when she vanishes. Attempts to get the police involved fail, and Richard begins the pursuit alone.
Regissør:

Roman Polański

Skuespillere:

Harrison Ford

,

Betty Buckley

,

John Mahoney

,

Emmanuelle Seigner

,

Dominique Pinon

,

Djiby Soumare

,

Dominique Virton

,

Gérard Klein

,

Stéphane D'Audeville

,

Laurent Spielvogel

,

Alain Doutey

,

Jacques Ciron

,

Roch Leibovici

,

Louise Vincent

Netflix vurdering:

6.9/5
Rotten Tomatoes vurdering:
76/100
Land hvor den er tilgjengelig:

Ikke tilgjengelig der du bor? Lær hvordan du kan låse opp Netflix og se denne tittelen.

Tilgjengelig siden:
2021-09-15
Trailer:
Lignende titler:

Synopsis:
A doctor and his wife go to Paris for a medical conference. While showering his wife disappears. His lack of language and the odd way she disappeared makes it nearly impossible for him to find any official help in his search as he enters the punk/drug culture to find out what has happened to her.
Andre titler som vises akkurat nå