The Story of Us - (1999) - Netflix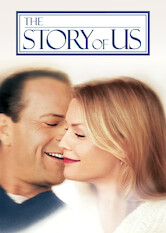 1h35m -
Komedier
Rob Reiner directs this romantic comedy in which a couple in marital crisis separates for the summer to independently evaluate their 15-year union.
Regissør:

Rob Reiner

Skuespillere:

Red Buttons

,

Rob Reiner

,

Tom Poston

,

Michelle Pfeiffer

,

Jake Sandvig

,

Jayne Meadows

,

Colleen Rennison

,

Albert Hague

,

Betty White

,

Julie Hagerty

,

Casey Boersma

,

Rita Wilson

,

Tim Matheson

,

Bruce Willis

,

Victor Raider-Wexler

,

Ken Lerner

Netflix vurdering:

6.0/5
Rotten Tomatoes vurdering:
0/100
Land hvor den er tilgjengelig:

Ikke tilgjengelig i din region? Registrer deg hos ExpressVPN å oppheve blokkeringen hos Netflix!

Tilgjengelig siden:
2019-12-01
Trailer:
Lignende titler:

Synopsis:
Two jilted lovers spend fifteen years of marriage together, only to find that they might no longer love each other. In this time they have two children and go through the various (dramatic and comical) events that take place in an average marriage.
Andre titler som vises akkurat nå